Here are some other incredibly talented crafters from the Craft Fair in Williamsburg, Brooklyn over the weekend.
Kate Durkin was selling some out of the ordinary hand-embroidered pillows that were bursting with charm.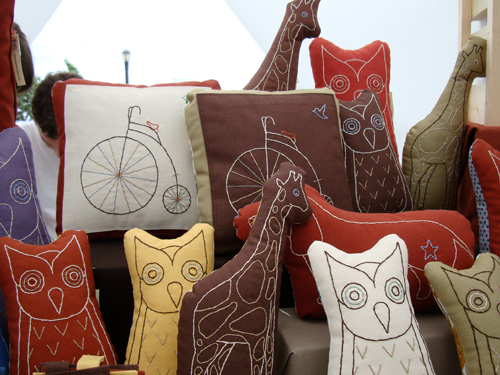 I just loved this guy's business name "DanMade". His name is Dan Siegel, website is www.danmade.etsy.com. The pottery he makes has interesting critters in bold colors on a neutral background and the critters themselves are just too cute!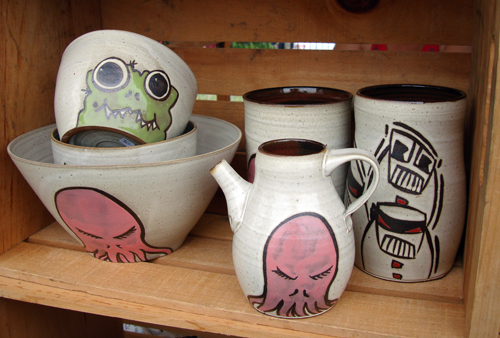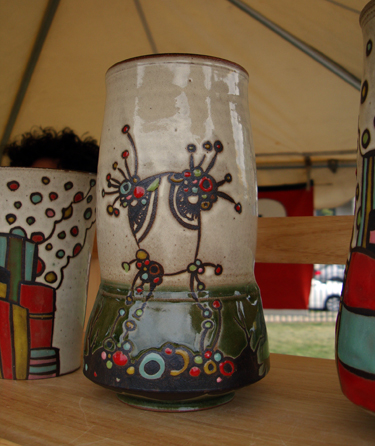 Angela McNally creates wonderful felt collages using video games as her subject, and sells them at www.pixlpshr.etsy.com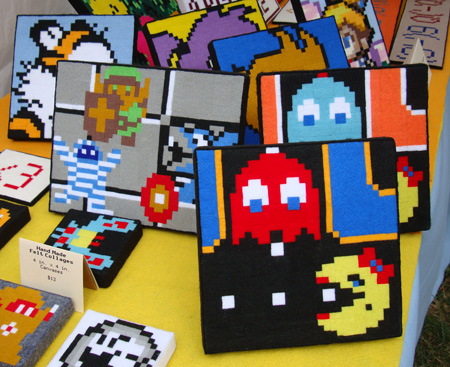 These tees were very interesting, part of it is a chalkboard that you could actually draw on. Sold by www.thechalkboardtee.com.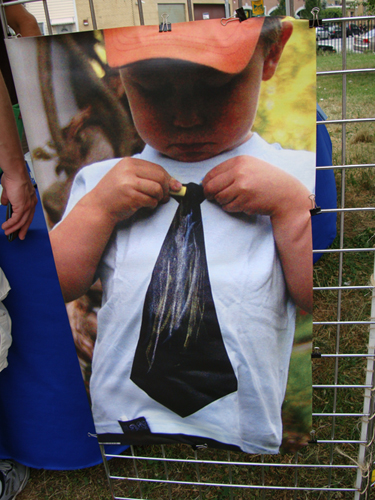 I loved these quirky little "nesting dolls with attitude" by Irene (http://bobobabushka.wordpress.com). And I really adored the little red and white house she constructed to display her wares!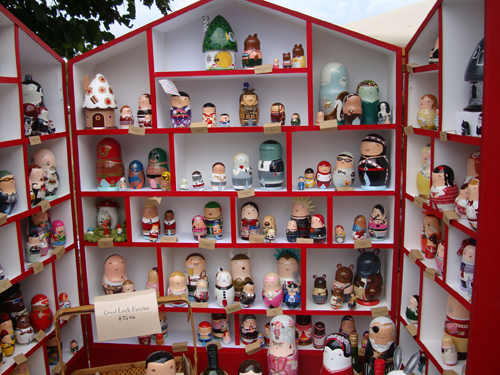 I now wish I had taken an upclose photo of a few of her matryoshka dolls, they were intricately painted with themes. Take a look at these "Oktoberfest Babushka Dolls", here's a picture from the listing on Etsy.
Melissa Kistler Hoy (http://papersatchel.blogspot.com) created these wonderful miniatures that display almost an Alice in wonderland world.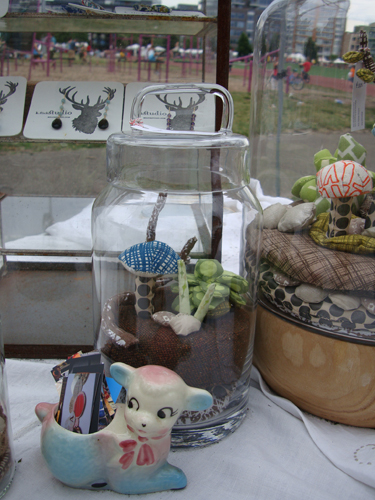 Original dolls by Mimi Kirchner (http://mimikirchner.com) intrigued many with her tattoed circus guys and gals. They were quite a hit along with another one of her dolls, a woman about town.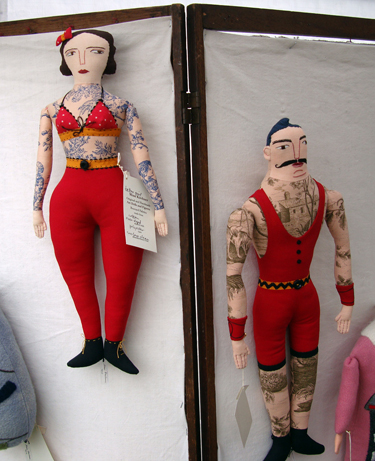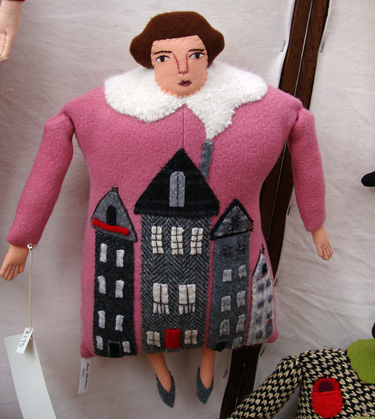 Creature pots by Kate Durkin were a unique way to display small potted plants.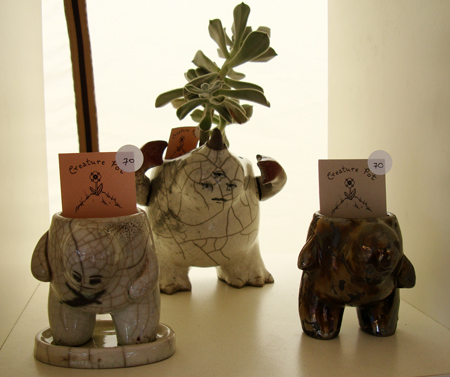 There wasn't much yarn at this crafts fair, but I managed to find a bit. Here's some by http://hellomellohandspun.etsy.com: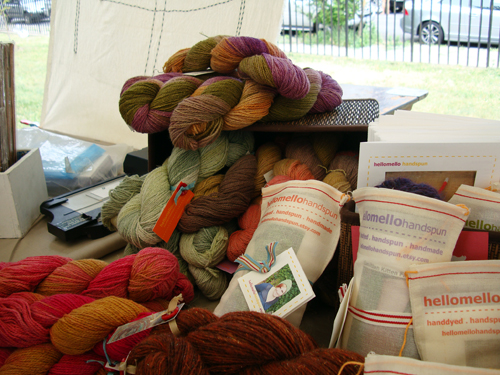 There are some really cool patterns in her etsy store including some lovely fingerless gloves.
My friend and I absolutely adored these wonderful colorful a-line skirts in funky fabrics and colors. They are available at http://orangyporangy.com.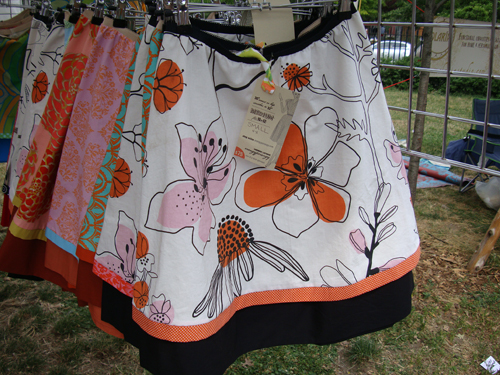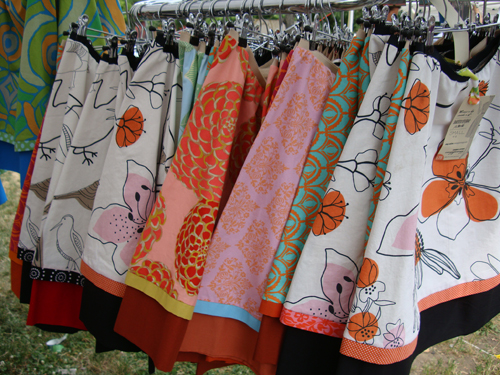 Something that really caught my eye was a beautiful print by Paul Roden and Valerie Leuth of the Tugboat Printshop. My favorite was a print called "Galaxy Map".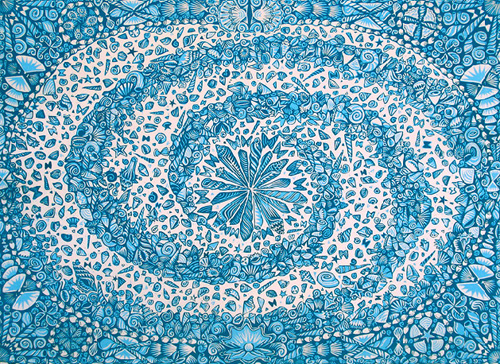 Next blog, some amusing signs from the crafts fair. Can't fit it all into one post!!
I met designer Daniel Yuhas (www.moltingyeti.com) at the Williamsburg Crafts Fair this past weekend. I actually recognized him from Ravelry, who could forget such a name? He had a booth and was selling some super-fun knitted toys.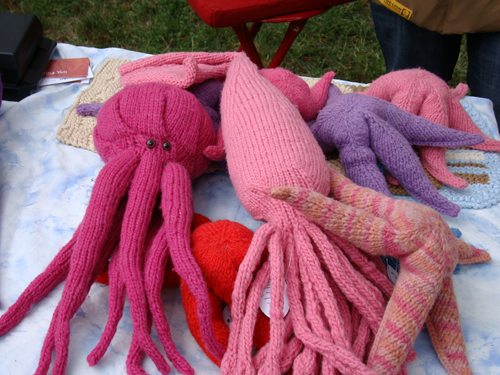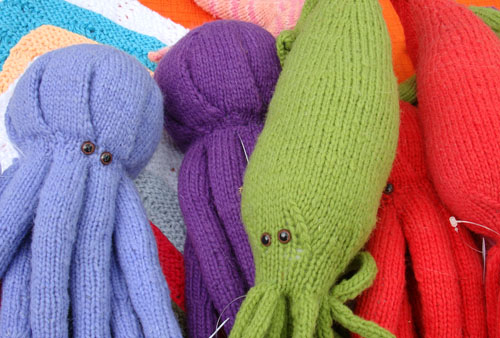 I just love the vivid colors!
The patterns are available for purchase on his website along with an absolutely gorgeous baby blanket pattern.
Finished products are available at www.knitsybitsy.com.
So you think NYC is a hugely populated city, throngs of people all in a mad rush to get someplace quickly. You'd be absolutely right! Most days when I walk down the streets of Manhattan I feel like I'm part of a herd of cattle and the thought enters my brain to suddenly yelling "MOOOOOO" at the top of my lungs (which would be considered a little odd but still acceptable behaviour around these parts).
Mostly New York is a conglomeration of strangers you don't know and try not to know, part of your day is spent trying not to catch anyone's eye, even people who are neighbors for many could remain strangers.
And we like it that way, right? Well sorta, there are a lot of crazies, NY is chock full of them (like the person next to me this morning who was yelling "MOOOO"), you gotta be careful! 🙂
Just to give you an idea of my commute, I take 3 separate trains to get to work, not a very relaxing ride.
Every now and again while knitting on the train and listening to an audiobook, someone will put aside the NY social attitude and strike up a conversation, usually triggered by seeing me knit. This was how I met Thyrza one day and we chatted for a bit before parting ways. She is a crafter who knits a bit and makes some fabulous jewelry.
Well since that first meeting, somehow in this city of strangers I've met this same lovely girl many times, sometimes it's twice a week and sometimes I could go without seeing her for several weeks. She's very creative and always is always supportive and encouraging of my knitting projects. We have great enjoyable conversations in the few minutes we spend together and she always brings a smile to my otherwise dreary underground commute.
I was lucky enough to bump into her at the end of last week and she asked me if I was going to the Williamsburg Crafts Festival. "Crafts festival? Williamsburg? Huh? Never heard of it" was my response. However, I was able to do a little Google research and found that The Renegade Craft Fair in Williamsburg was being held over the weekend.
I do like street fairs and go often enough in the city but I find that every vendor has the same merchandise, not much is unique. If you've been to one, you've been to them all. So this Crafts fair sounded wonderful, I knew it wouldn't be more of the same.
Although this past weekend's weather was kinda sweltering, I managed to drag DH and a friend and we really had a ball. It was inspiring to see so many talented crafters, some of whom made such beautiful things out of everyday discarded items.
For example, Artist Jen Tabor (www.souldier.us) used recycled seatbelts to create belts, dog collars and guitar straps: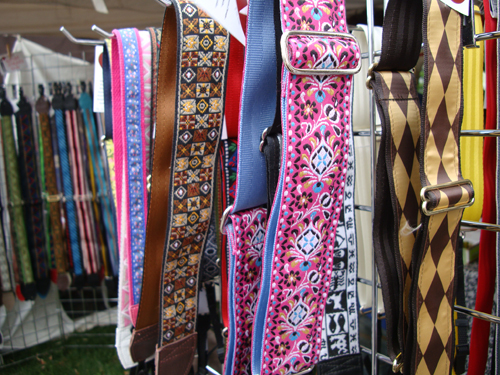 Heather Goodwin and Kerry Alice (www.twigsandheather.com) create sterling silver jewelry using twigs, leaves, bark, flowers, rocks and shells.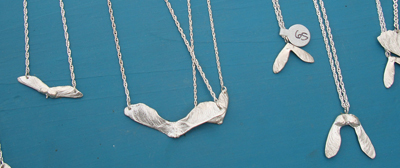 WrecordsByMonkey (www.wrecordsbymonkey.com) uses vinyl records in all sorts of innovative ways and has a full jewelry line. I photographed these cool chairs and you can see some bracelets on the table in the background.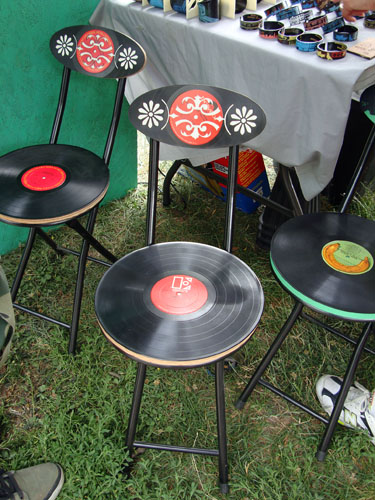 Daina Platais (www.dainaplatais.com) created these salt and pepper shakers from real avocado shells to give them a realistic texture. They were beautiful, stylish and adorable to boot!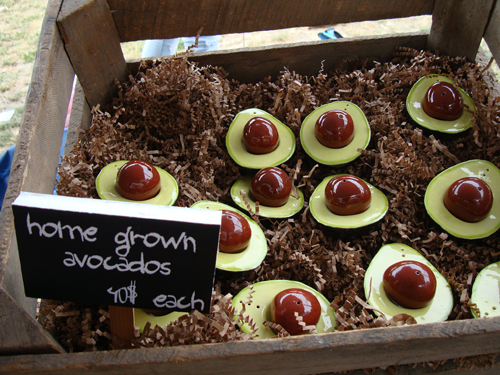 Again, I want to thank once a stranger, now my subway friend, Thyrza for letting me know about this crafts fair!
That's it for today, but I will be posting more shortly.
In case you didn't know,
http://www.zombieresearch.org/awareness.html
Quoted from the website:
ZOMBIE AWARENESS MONTH®

May is the official Zombie Awareness Month of the Zombie Research Society.

Many films important to the evolution of the modern Zombie are set in the month of May, from the original Night of the Living Dead, 1968, to the well received Dawn of The Dead remake of 2004. 

Also, because Spring naturally brings with it a sense of renewal and hopefulness, May is the perfect month to emphasize continued vigilance in the face of the coming Zombie Pandemic.

Gray RibbonSupporters of Zombie Awareness Month wear a gray ribbon to signify the undead shadows that lurk behind our modern light of day.  From May 1 through May 31, Zombie Research Society Members and friends take this small step to acknowledge the coming danger.

Why Not October?


Despite common misconceptions, Zombies – and the threat they represent – are not connected with the late October pagan tradition of Halloween.  Witches, ghouls and monsters, all Halloween staples, are otherworldly creatures of old, filled with mysticism and superstition. 

Zombies, on the other hand, are biological entities, made of flesh and blood, and functioning under the same laws of science and reason that all worldly beings must.
Sheesh, and to think this whole month may have passed you by without knowing this!! Scary! 
This is the last in the series of amusing/delicious photos taken at the MD Sheep & Wool festival, this photo is not amusing, so much as too cute!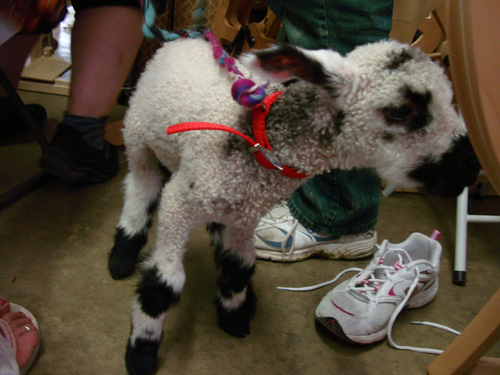 Little lamb was about the size of my cat and just the cutest thing strutting around one of the yarn stalls.
Here's the delicious shot of the day: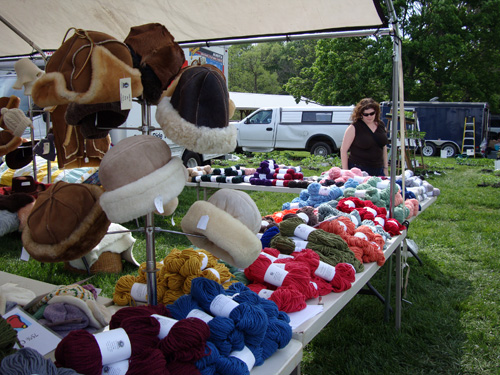 It wasn't just yarn at the festival, almost forgot to include my photo of other wares available for purchase.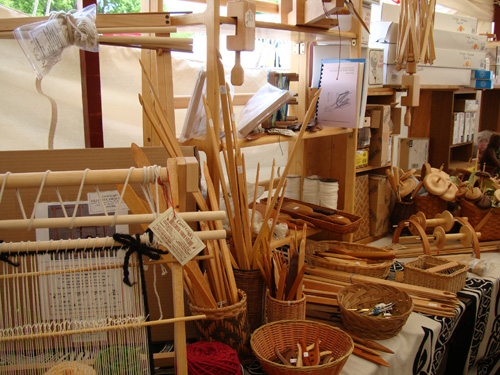 All in all, attending the festival was a fantastic experience and I absolutely can't wait until the NY Sheep & Wool festival Rhinebeck, NY coming up in October.
Fifth photo in series of amusing/delicious photos from the Maryland Sheep & Wool Festival.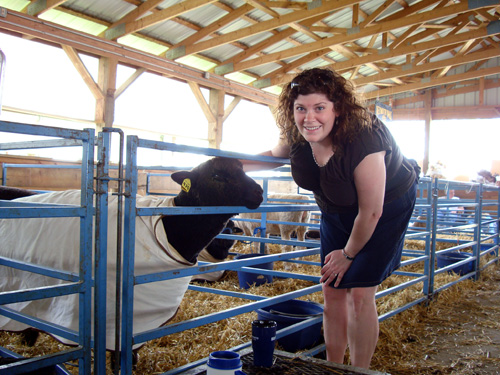 This one particular sheep was super friendly. Somehow I managed to find his/her "spot", leading him to rest his head on the bars, close his eyes in concentration and enjoyment.
Who knew, sheep pant (just like dogs do) in the heat!
On the delicious front: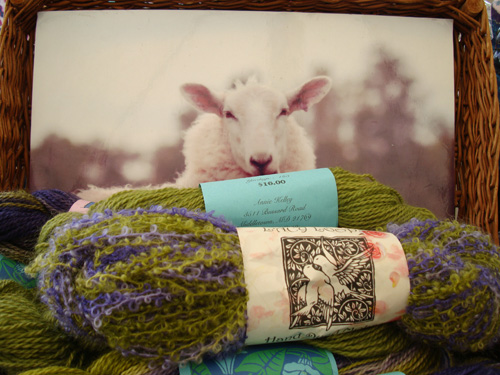 Fourth photo in a series of amusing photos taken at the Maryland Sheep & Wool Festival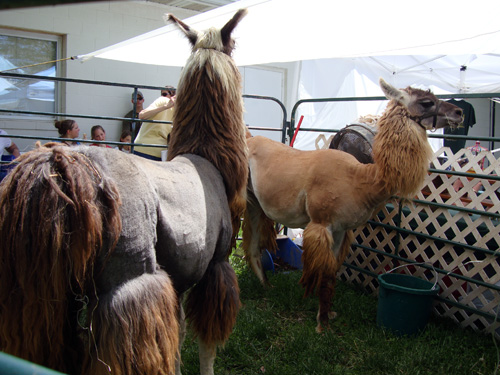 There was a bit of debate on whether these were alpacas or llamas.
According to this website, I have confirmed that these are, in fact, llamas dressed like poodles.
And here's the delicious photo of the day: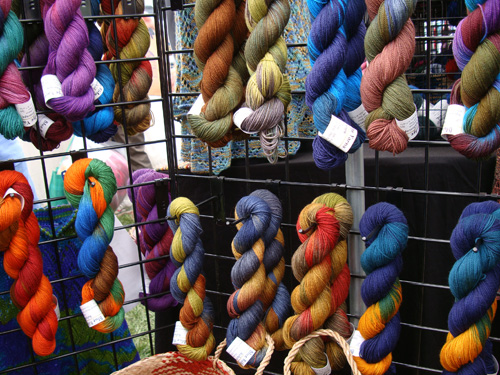 This past weekend, the Mr. and I attended the Maryland Sheep & Wool Festival in West Friendship, MD.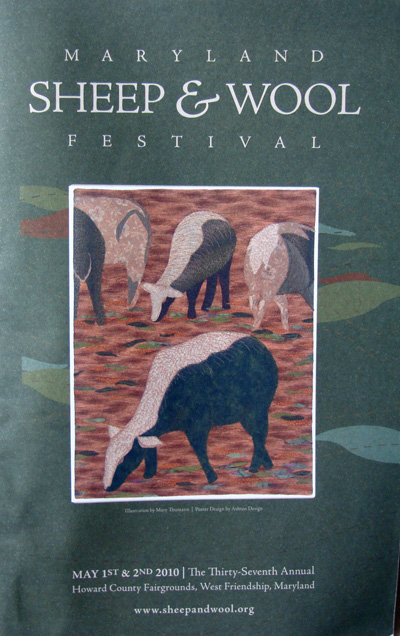 It was an incredible day spent fondling yarn and petting sheep. Even my husband enjoyed himself (or so I'm trying to convince him). I had him hold the credit card, but still was able to get several awesome hand dyed skeins.
This was not the place to get well-know yarn from companies that you would see at your LYS. Instead, most of the vendors were private fiber artists who owned sheep farms and did their own spinning and dyeing.  I loved meeting the spinners and dyers and it was great to know that all profits went directly to them.
He was incredibly thankful that I don't spin, as there was a plethora of roving available for purchase as well.
Wish I had the room for a spinning wheel in my tweeny Brooklyn apartment, or, even better, if they made a collapsable one that could be whipped out on my subway commute. Yah, not really.
Here's a photo of some of the roving available at one of the stalls.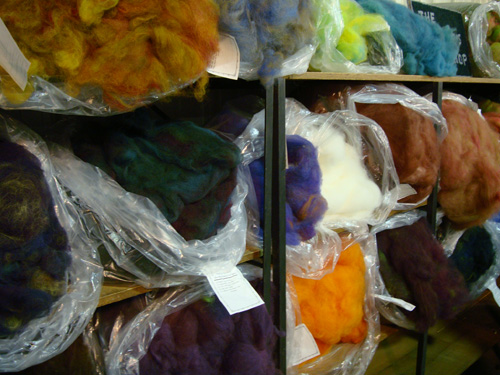 It was wonderful to spend time outdoors with all sorts of like-minded crafters and see an incredible array of luscious hand-dyed fibers. 
I will be posting a series of amusing photos from the festival along with some simply delicious yarn photos (more to come next post).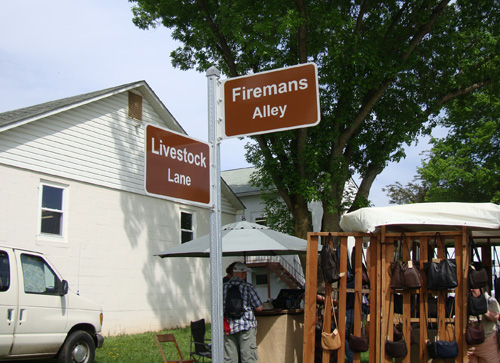 This is about the time I turned to my husband and said, "Dorothy, I don't think we're in Brooklyn anymore".
Even more amusing is that when I was there, for some reason I read the sign as "Firearms Alley", wouldn't that be a great address, corner of Livestock Lane and Firearms Alley?
And now for the delicious: