Estonian Princess Baby Blanket
It's been a while, but happy new year everyone!
I recently released a new pattern, Estonian Princess Baby Blanket.
The traditional Estonian stitch pattern came from The Hapsalu Shawl book with some minor tweaks. The moment I saw the stitch pattern, I knew it would make for a really stunning blanket. All I needed to do was wait for the right opportunity to be forced into creating the pattern. That opportunity came not too long ago when my brother and sister-in-law had their 9th child, finally a girl after 7 yrs and 3 boys (there seems to be an unbalaced boy tendency in my family).
I was a little torn when choosing a yarn for this project. On the one hand I wanted the blanket to have a certain delicate quality, but on the other hand, realistically a mother of 9 is not going to hand wash anything. Ever. So I chose Berroco Comfort DK for it's durability and easy care, but it still is extremely soft and has an elegant look.
For those of you who have never done nupps before (nupps are the Estonian version of a bobble), the pattern includes a photo tutorial on how they are achieved. The key is to keep the yarn really loose, looser than you think is appropriate, but trust me, it works!
Here's a closeup of the stitch pattern, those "bumps" on the corners of the diamond eyelets are nupps. They have a different overall look than the bobble, more delicate.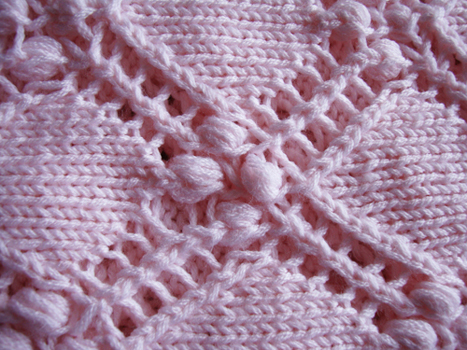 The edging mimics tthe diamond-shaped pattern of the blanket and creates a beautiful trim that comes out into points on either side. It was modified slightly from the one in the book 150 Knitted Trims by Lesley Stanfield. There was actually an error in these instructions from the book, and I was able to contact the publisher to get the corrected instructions.