Rhinebeck – NY Sheep & Wool
This year a friend and I decided to attend the NY Sheep & Wool in Rhinebeck  on Oct. 16-17. One day just wouldn't be enough, so we reserved a room nearby.
Word of warning for anyone who is interested in going next year, reserve well in advance. We barely managed to find a decent room within a 1/2 hr drive when I started looking back in August. In fact, I'm thinking of starting to look now for a room for next year's event.
Overall the NY S&W was wonderful, the animals, the crafters, the vendors, the food. Yet, interestingly enough I barely found any yarn that really grabbed me in a suffocating chokehold, yarn that I took one look at and just couldn't live without. Now don't get me wrong, I did manage to buy 3 skeins of Watercolors II sock yarn from Periwinkle Sheep (100% superwash merino, my favorite fiber) in the color "suits him" (monocromatic variegated black and grey).
However, at the MD S&W earlier this year I went a little nuts and bought all sorts of incredible heartstopping fibers. I haven't yet used most of it, but my newest pattern, the Little Girl Big Girl Dress was knit with yarn purchased at the MD S&W. I also recently finished the Ishbel shawl by Ysolda with yarn from the MD S&W and it turned out absolutely gorgeous; so gorgeous, in fact, that I hesitate to wear it for fear that something might happen to it.
Well, let's get to the part everyone wants to see, the pictures!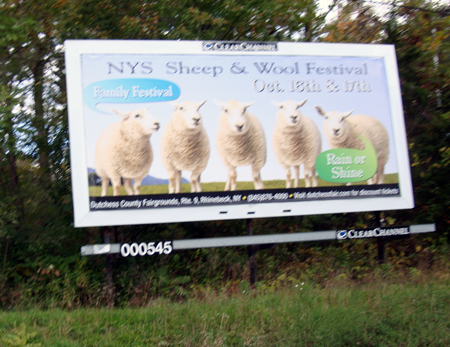 We came across this billboard on our way out of the area. We also heard a radio advertisement for the festival while in the area. Coming from NYC, it was pretty amazing to hear; something like that would never get on the air in NYC.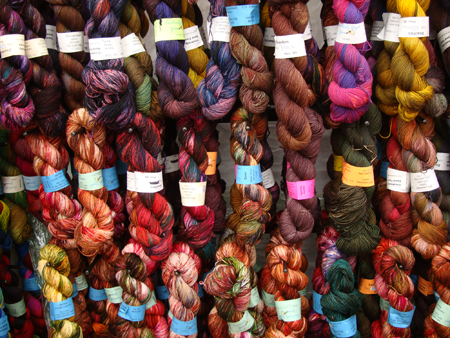 A lovely photo of some amazing yarn at the festival.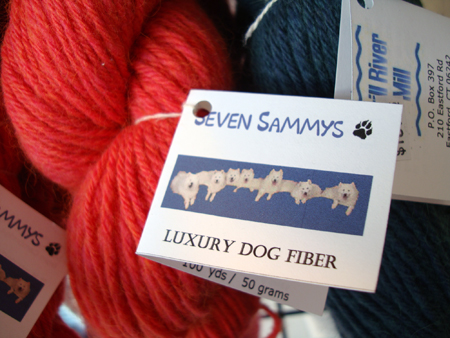 Yes folks, your eyes do not deceive you, it's yarn made from dog hair. It's kind of amusing that the tag reads "luxury dog fiber" as opposed to bargain basement dog hair yarn. Not sure why some people get all squeemish when this comes up. I personally don't find a huge difference between dog and any other animal fiber. I don't discriminate; sheep, dog, alpaca, bunny? I love 'em all!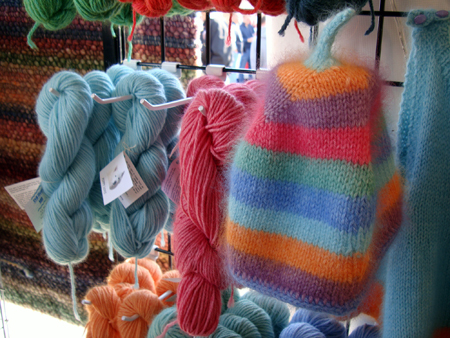 And to illustrate my point, see this beautiful little hat made from "luxurious" dog hair yarn?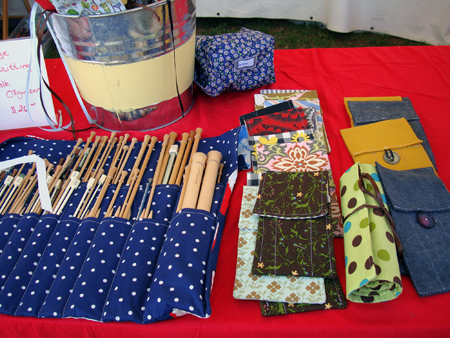 Some lovely knitting accessories in fun, funky fabrics.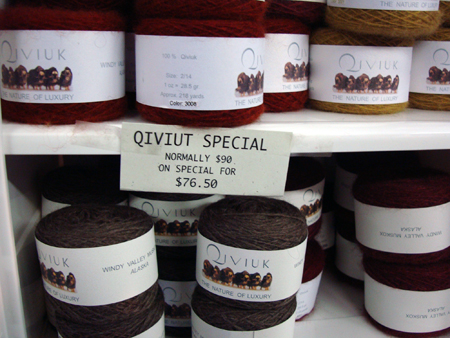 Stop the presses! Look at this incredible sale! Only $76/skein!
Well, it's Qiviut, one of the most expensive luxury yarns. Was nice to touch and feel, but was even nicer to leave it where it was and go home without needing to take out a second mortgage.

Everyone needs a felted pelican, no? This one is just adorable in my opinion.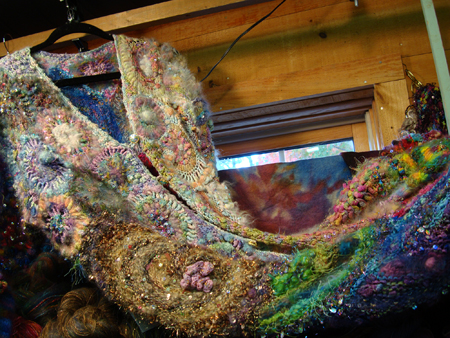 Are there words that can acurately describe how fugly this knitted thing is? I think I've read an acurate description where someone made the comparison of "Rainbow bright's horse's afterbirth". I think that sums it up.
I just can't imagine what would posess someone to spend their precious time creating this monstrosity!
Amusingly, after I snapped this picture the vendor asked me to stop taking pictures. was she concerned with someone stealing the idea?
Up next, some furry photos!