So it's been over a year and this blog has been silent.
But here's my excuse: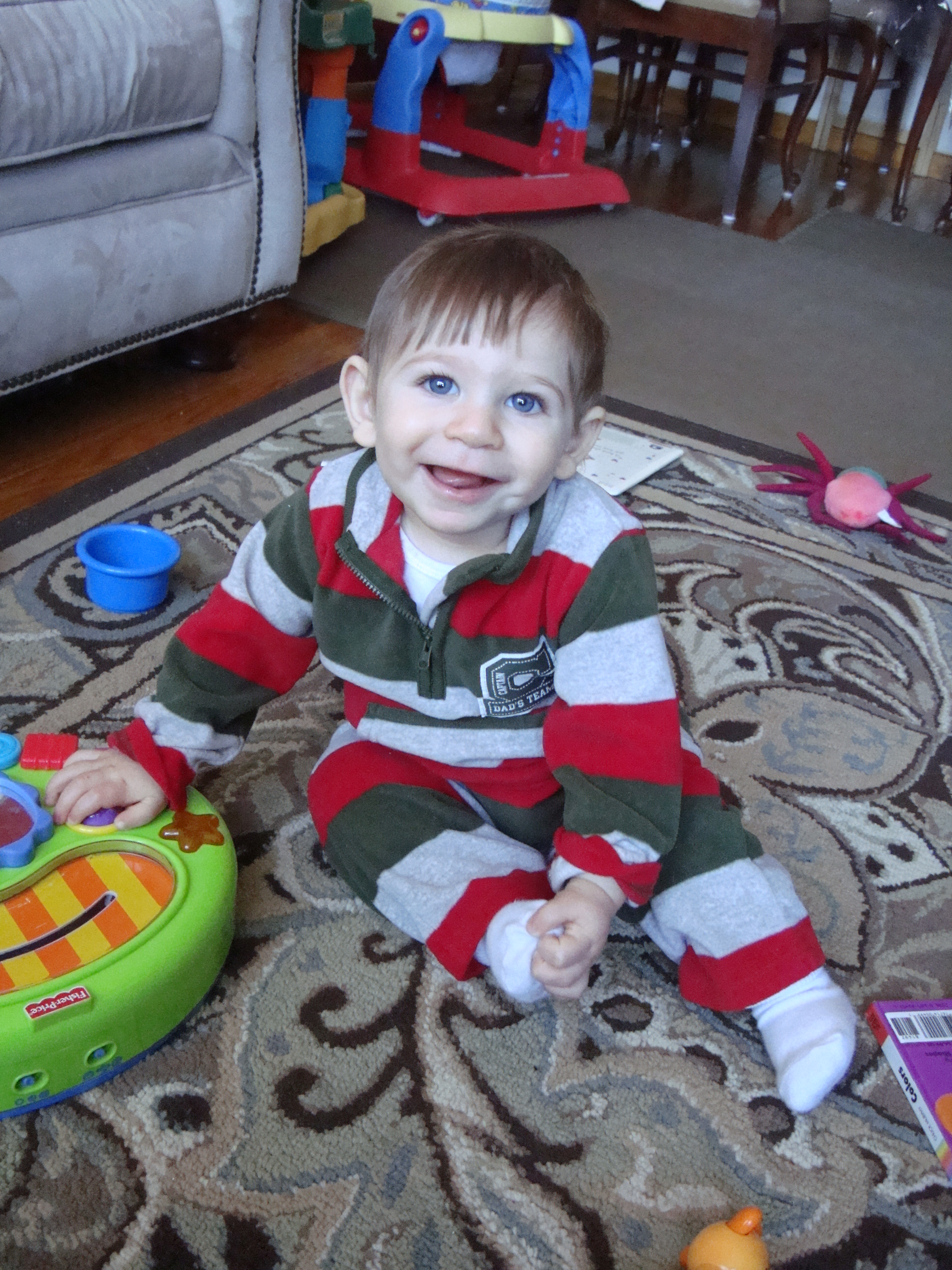 Yes, we had Baby A last year. He's about a year old now. It's been such an incredibly wonderful year, seeing life anew through his eyes. Baby A has brought us such a world of happiness.
It hasn't been so great for the knitting front though. It's been difficult to find time to knit, and even harder to find time to design.
I did manage to release the Windmill Beret eBook  during my hiatus, which was released at the end of last year.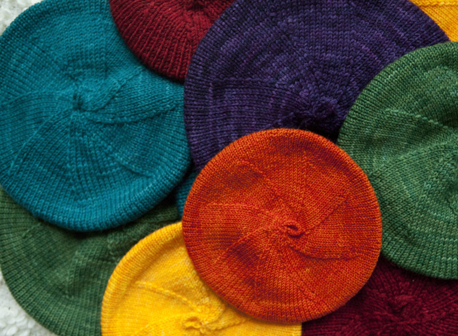 The eBook contains 6 patterns, it's a simple classic beret written in different yarn gauges: Fingering, Sport, DK, Worsted, Heavy Worsted and Aran. Each gauge includes 5 sizes from Newborn to Adult. It's really a great way to use up leftover yarn, and is a pattern that I go to time and time again.
I personally knitted 12 of these for samples. I needed to knit them all in the Adult size so that I could accurately calculate the yardage requirements for the rest of the sizes. Then, I knitted each in a smaller sizes so that I could display them on children of various ages. Let me tell you, after knitting so many of them I probably knew the patterns by heart!
But hopefully my long lapse in designing is turning a corner since I'm currently designing my first sweater for my very own little one! Not to give away any secrets, but it's a top-down raglan that has some cable detailing.
Top-down designs are among my favorites for several reasons:
1) It looks like a sweater while you are knitting it. So many people on the train ask me, "what are you knitting?" and I hold it up and start explaining. Not so easy when knitting just a sleeve, but when you have the whole sweater in one piece you can show them the back, the sleeves, the fronts, etc.
2) No seaming! It's pretty common that knitters hate sewing, not sure why, but I'm among those that really detest sewing. Top down designs are easy to do without any seaming involved. Once you've knitted it, it's done!
3) Measure as you go. You can easily make the sleeves or body a little longer or shorter to fit better. You can try it on and see how it fits too. It's a lot easier than holding up a sleeve to see if it's the proper length.
I'd love to hear what your favorite construction methods are and why!
According to this article from The Telegraph, a giant pink knitted rabbit, created by Gelitin as an outdoor sculpture,  lies on a hillside in northern Italy. It's so large that it can be seen from space by visitors to Google Earth.
Gives Elmer Fudd a real head start!
Transcending the Material – The Art of Ben Cuevas
This blog entry shows multiple photos of an intricately knitted skeleton sitting atop a pyramid of cans of condensed milk.
http://bencuevas.wordpress.com/2010/10/21/transcending-the-material/
Hmmm, what can I say about this. Takes a lot of determination, time and some industrial strength double pointed needles…..
One coment from a knitter asks for the pattern!! hah!
If you browse around the site you can be inspired by such things as the knitted brain, knitted thyroid, and my personal favorite, the knitted rectum.
I admire the dedication, even though
It's been a while, but happy new year everyone!
I recently released a new pattern, Estonian Princess Baby Blanket.
The traditional Estonian stitch pattern came from The Hapsalu Shawl book with some minor tweaks. The moment I saw the stitch pattern, I knew it would make for a really stunning blanket. All I needed to do was wait for the right opportunity to be forced into creating the pattern. That opportunity came not too long ago when my brother and sister-in-law had their 9th child, finally a girl after 7 yrs and 3 boys (there seems to be an unbalaced boy tendency in my family).
I was a little torn when choosing a yarn for this project. On the one hand I wanted the blanket to have a certain delicate quality, but on the other hand, realistically a mother of 9 is not going to hand wash anything. Ever. So I chose Berroco Comfort DK for it's durability and easy care, but it still is extremely soft and has an elegant look.
For those of you who have never done nupps before (nupps are the Estonian version of a bobble), the pattern includes a photo tutorial on how they are achieved. The key is to keep the yarn really loose, looser than you think is appropriate, but trust me, it works!
Here's a closeup of the stitch pattern, those "bumps" on the corners of the diamond eyelets are nupps. They have a different overall look than the bobble, more delicate.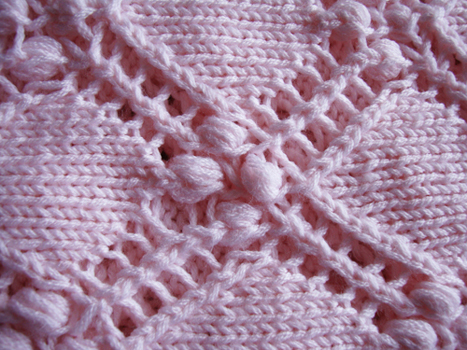 The edging mimics tthe diamond-shaped pattern of the blanket and creates a beautiful trim that comes out into points on either side. It was modified slightly from the one in the book 150 Knitted Trims by Lesley Stanfield. There was actually an error in these instructions from the book, and I was able to contact the publisher to get the corrected instructions.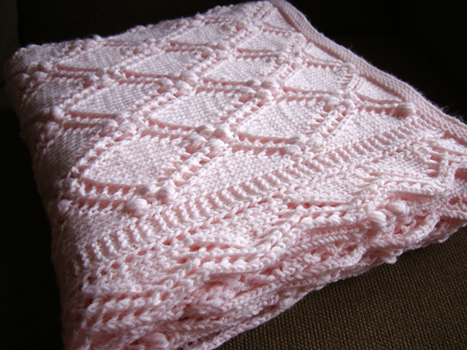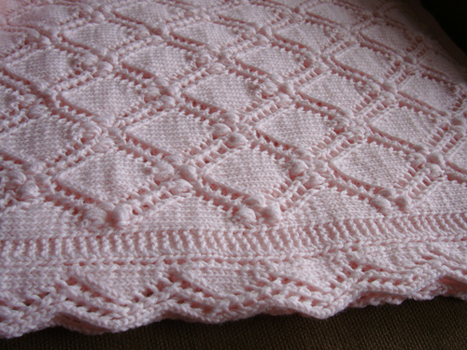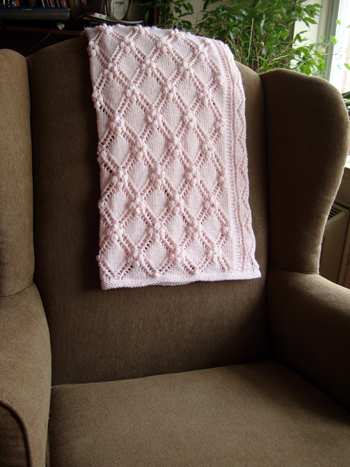 Just a few amusing eats at NY S&W.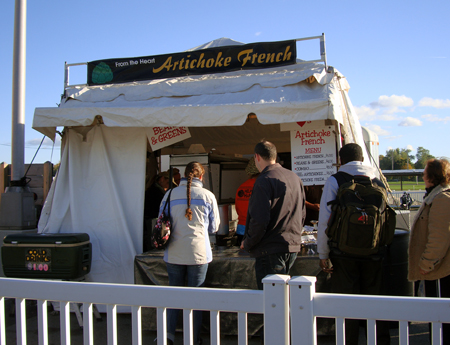 Ok, so what's the deal with this? Fried artichokes? Sounds like something you should try at least once. But the line was outrageous for most of the day. We passed by towards the end and the line was pretty manageable.
Were they as good as the line makes them out to be? Not nearly! Think canned artichokes swimming in oil with some cheese stuff sprinkled on top. Not sure what the obsession is.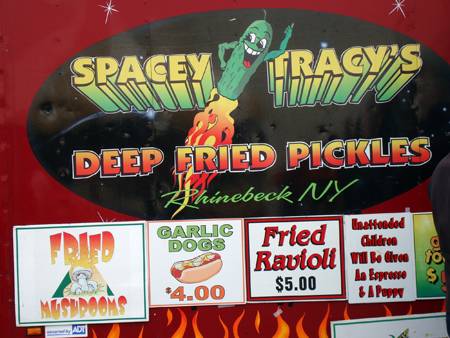 Now these I did not try, as I've tasted fried pickles about a year ago with a friend in a bar that was famous for them. Another "meh." experience that I could live very happily never revisiting.
Note the sign "Unattended children will be given an espresso and a puppy." C'mon vendors, tell us how you really feel.
Here are some beautifully carved pumpkins on display at the festival.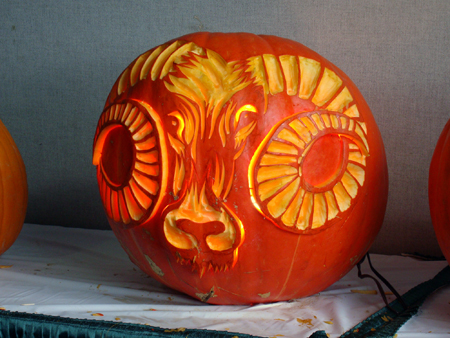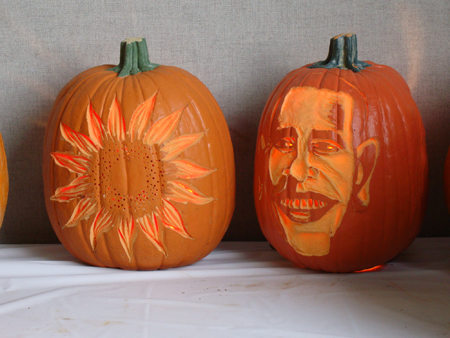 As promised, here are some photos of the critters who also attended the festival, in a different capacity. May not be exciting to some of you folks, but us city folks so rarely get this close to nature.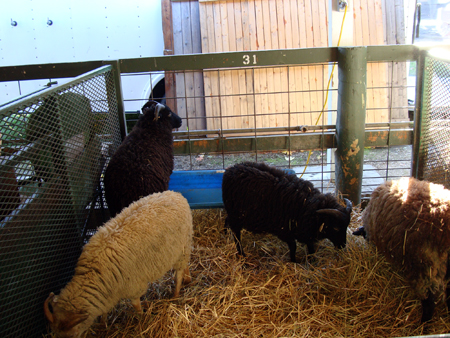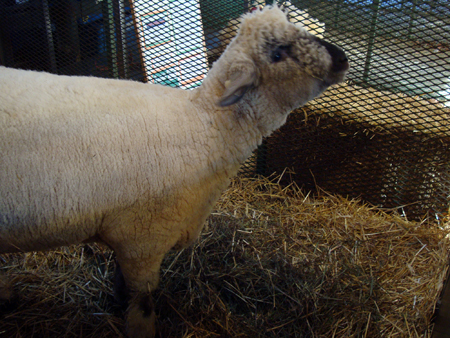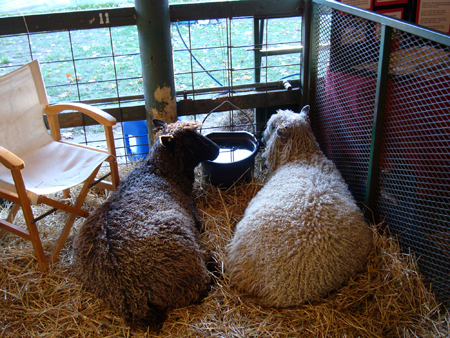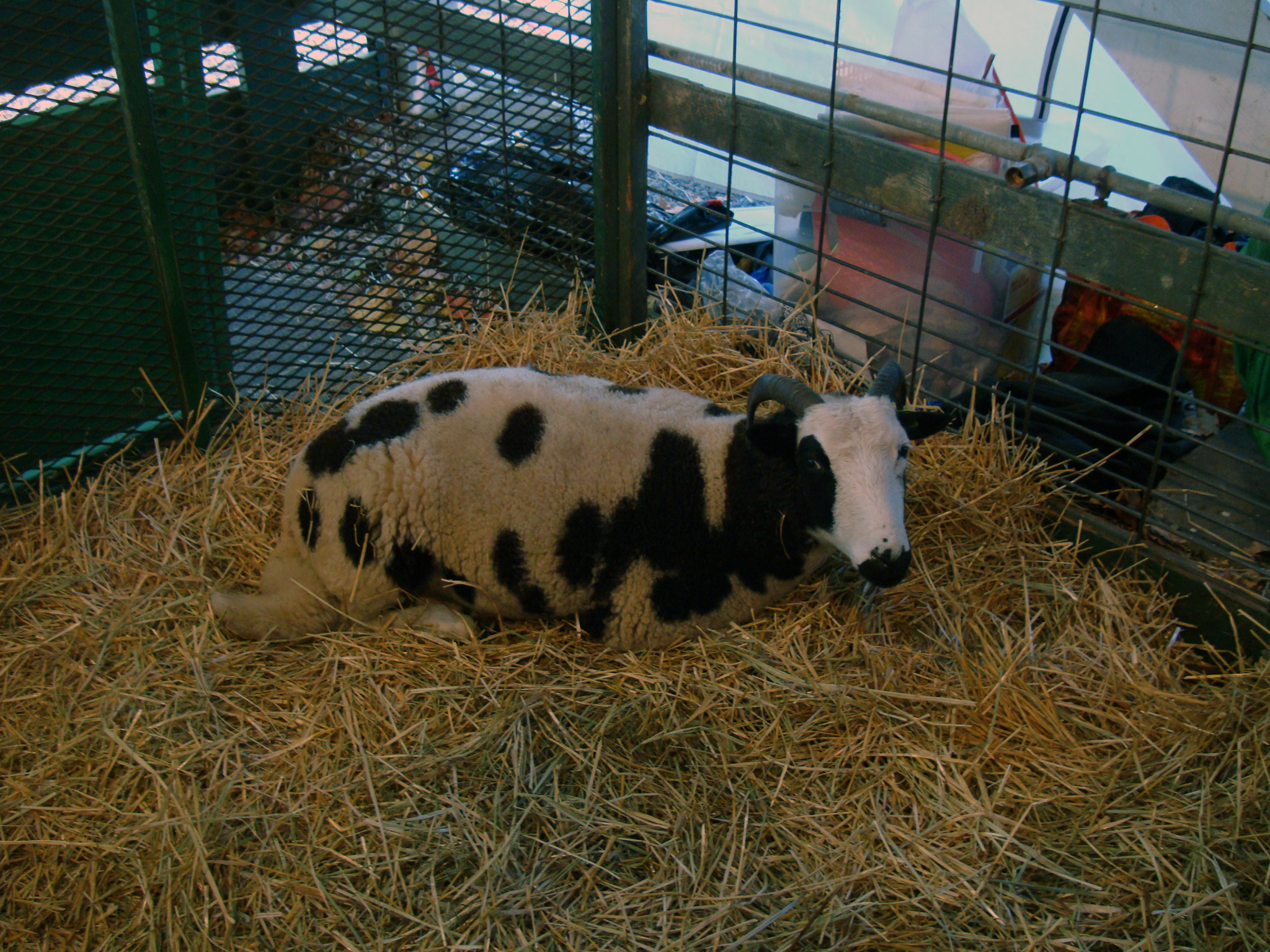 Here's a sheep dressed up in cow's clothing.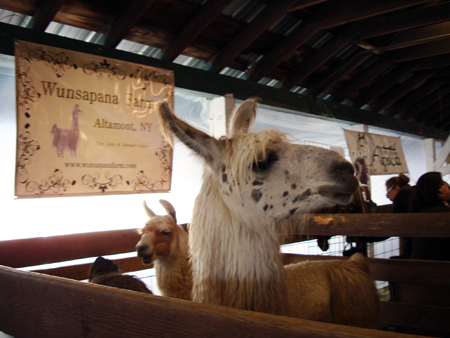 Elegant and regal llama.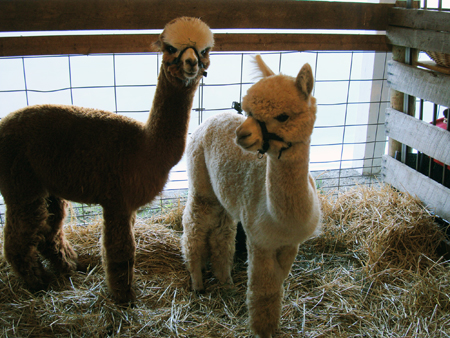 How cute! Baby alpacas!!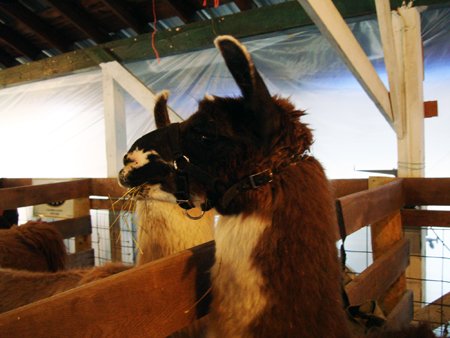 A calico llama! How cute!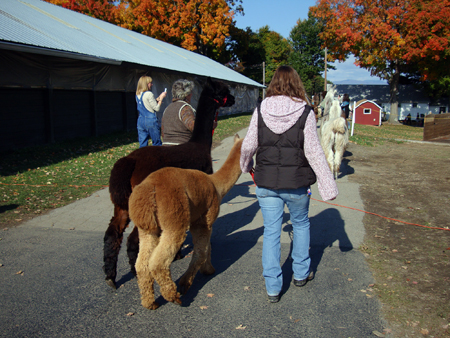 Hard to be cooped up all day, we all need to get out and go for a walk, including alpacas and llamas!
Take a gander at those beautiful fall colors in the background!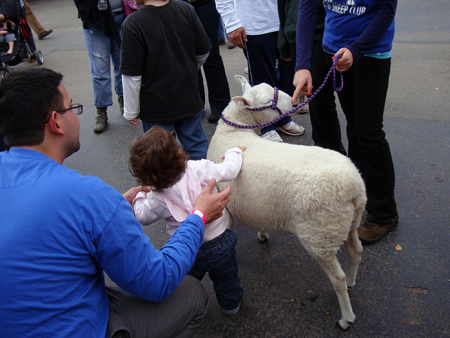 Everyone enjoys a little nose scratch, right? This lovebug was very happy to be the center of attention!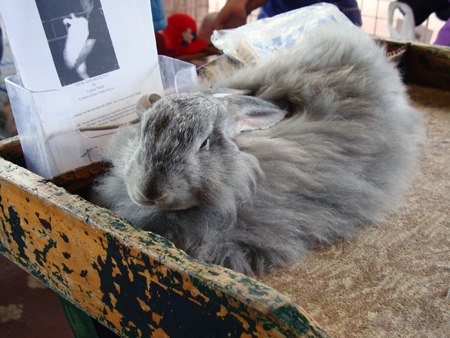 How beautiful is this little guy? He just sat in this little area letting everyone pet him. And omg, how soft!!
Next up, a few amusing food vendors.
This year a friend and I decided to attend the NY Sheep & Wool in Rhinebeck  on Oct. 16-17. One day just wouldn't be enough, so we reserved a room nearby.
Word of warning for anyone who is interested in going next year, reserve well in advance. We barely managed to find a decent room within a 1/2 hr drive when I started looking back in August. In fact, I'm thinking of starting to look now for a room for next year's event.
Overall the NY S&W was wonderful, the animals, the crafters, the vendors, the food. Yet, interestingly enough I barely found any yarn that really grabbed me in a suffocating chokehold, yarn that I took one look at and just couldn't live without. Now don't get me wrong, I did manage to buy 3 skeins of Watercolors II sock yarn from Periwinkle Sheep (100% superwash merino, my favorite fiber) in the color "suits him" (monocromatic variegated black and grey).
However, at the MD S&W earlier this year I went a little nuts and bought all sorts of incredible heartstopping fibers. I haven't yet used most of it, but my newest pattern, the Little Girl Big Girl Dress was knit with yarn purchased at the MD S&W. I also recently finished the Ishbel shawl by Ysolda with yarn from the MD S&W and it turned out absolutely gorgeous; so gorgeous, in fact, that I hesitate to wear it for fear that something might happen to it.
Well, let's get to the part everyone wants to see, the pictures!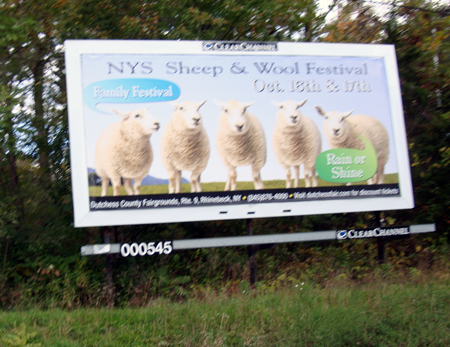 We came across this billboard on our way out of the area. We also heard a radio advertisement for the festival while in the area. Coming from NYC, it was pretty amazing to hear; something like that would never get on the air in NYC.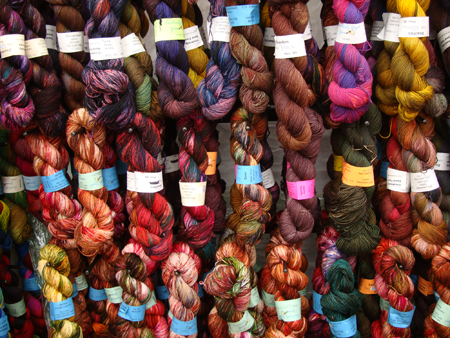 A lovely photo of some amazing yarn at the festival.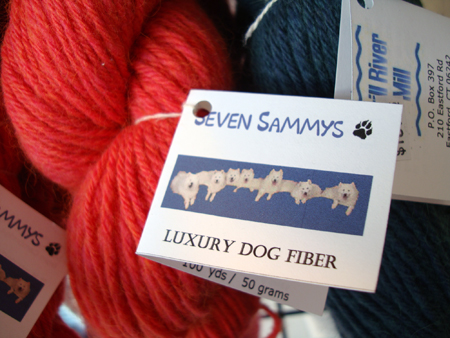 Yes folks, your eyes do not deceive you, it's yarn made from dog hair. It's kind of amusing that the tag reads "luxury dog fiber" as opposed to bargain basement dog hair yarn. Not sure why some people get all squeemish when this comes up. I personally don't find a huge difference between dog and any other animal fiber. I don't discriminate; sheep, dog, alpaca, bunny? I love 'em all!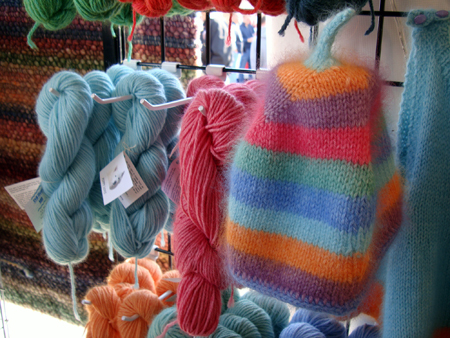 And to illustrate my point, see this beautiful little hat made from "luxurious" dog hair yarn?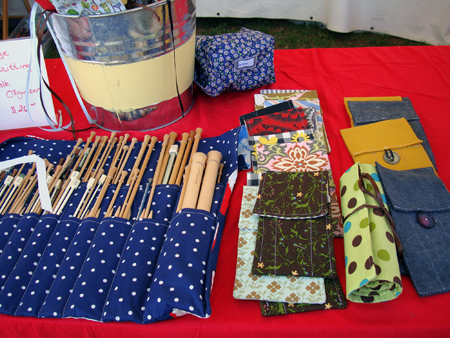 Some lovely knitting accessories in fun, funky fabrics.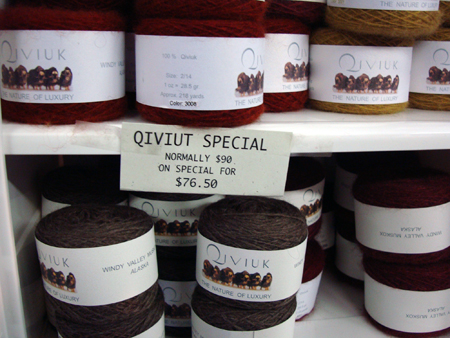 Stop the presses! Look at this incredible sale! Only $76/skein!
Well, it's Qiviut, one of the most expensive luxury yarns. Was nice to touch and feel, but was even nicer to leave it where it was and go home without needing to take out a second mortgage.

Everyone needs a felted pelican, no? This one is just adorable in my opinion.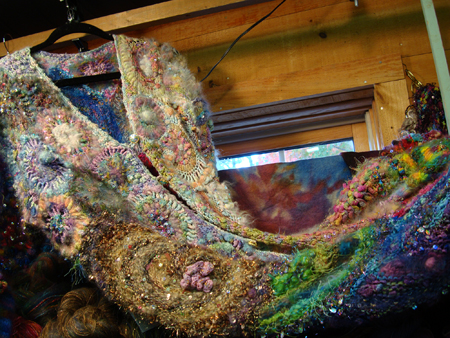 Are there words that can acurately describe how fugly this knitted thing is? I think I've read an acurate description where someone made the comparison of "Rainbow bright's horse's afterbirth". I think that sums it up.
I just can't imagine what would posess someone to spend their precious time creating this monstrosity!
Amusingly, after I snapped this picture the vendor asked me to stop taking pictures. was she concerned with someone stealing the idea?
Up next, some furry photos!
It's been a few weeks since I've released my newest pattern, Little Girl Big Girl Dress, on Ravelry and I'm happy to report that it's received a lot of positive response.
I was really excited about this new pattern. Some knitters feel a little hesitant to knit a small child's garment because kids grow so quickly and the finished item has a limited weareable lifetime.
The Little Girl Big Girl Dress is designed to fit a child for a very long time. It begins as a dress for a 12 month old child and can expand as the child grows to eventually fit a much larger size 6 child and be worn as a tunic.
Here is a photo of the adorable and photogenic Madeline Skye, age 2.5 wearing the sample as a dress. We had a fun time at the children's park in Union Square in Manahattan where we took these photos.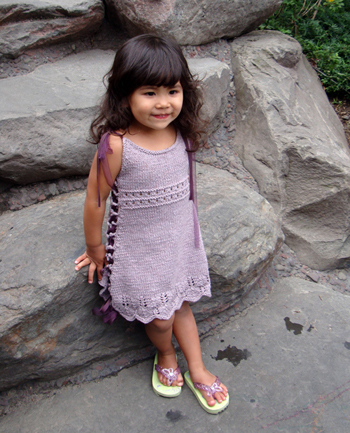 Next is a photo of 5 year old beautiful covergirl, Tina, wearing the very same sample with the laces at the sides loosened a bit.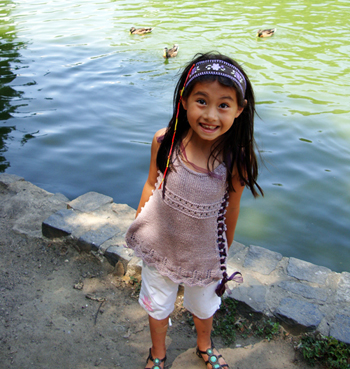 You can see that Tina wore the tunic with white capris and looks incredibly stylish. We had a lot of fun feeding the ducks in Prospect Park during the photoshoot.
Many thanks to my little models for displaying the finished garment in style!
This pattern is now available for purchase.
It's amazing what comes off our little long-haired kitty Layla when she's brushed.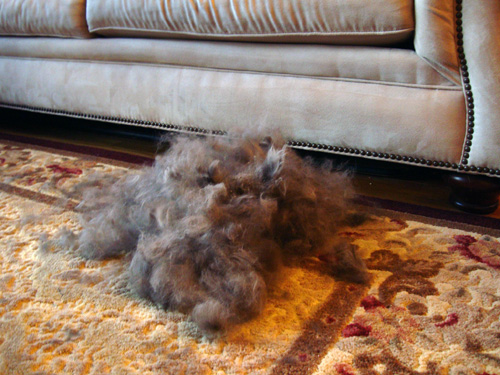 It's even more impressive when you have some frame of reference for comparison.
This is our little 7 lb cat in all her glory relaxing next to her former self.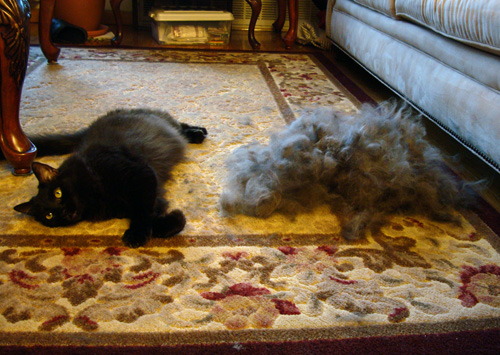 Although she's a beautiful black cat, her "roving" is actually grey. Not to fear, I don't spin and wouldn't be knitting anything from her fur, no matter how lovely it is.
A few last photos from the Renegade Crafts Fair.
I thought this was a pretty cool idea, type a letter, roll it up and put it in a bottle. Cute keepsake if you are into such things.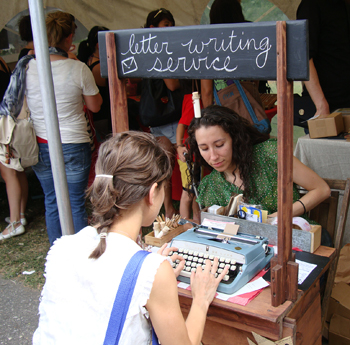 Love the look of that typewriter! I have a beautiful oak secretary (a piece of furniture, not a person) that sits in my foyer. It was inherited from my grandparents along with several other pieces of traditional furniture.
At one point I had an old typewriter that was older than the one in the picture sitting on top of the secretary, but was for show, it didn't actually work.
I also have an old Bakelite telephone from the 40's that sits on the secretary and does work. However, the ringer is super loud and jarring enough to literally wake the dead, so my husband prefers to leave it unplugged.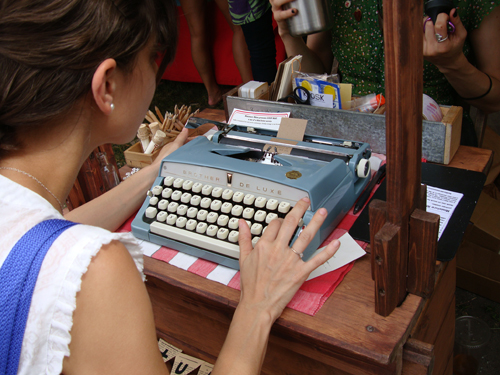 So there's as story behind the moustach. My husband's been recently attempting to grow a 'stach, he thinks it looks manly, I think it looks seedy. I'm not exactly a fan of facial hair. I usually let him grow it for about a week or two before it starts to repulse me enough that it comes off. That in-between stage just gets me. It's all scratchy, he looks strange, I can't stand it, I tease him endlessly, he shaves it and a few weeks later the process begins again.
I've threatened to grow my own moustach or to shave my head, but somehow he can tell I'm bluffing.
To our amusement, one vendor at the crafts fair was having a raffle for a huge stuffed moustache.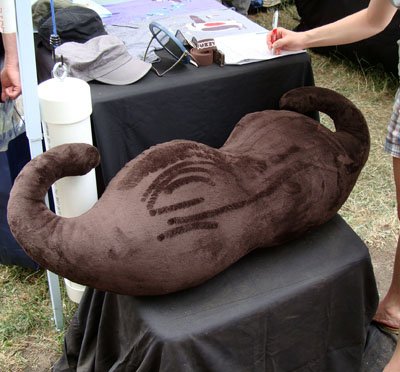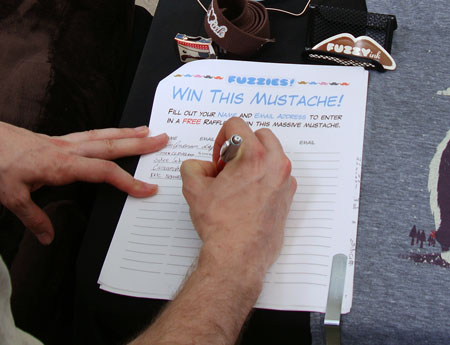 Are you surprised that I didn't sign up? However, this stuffed animal is a hodgepodge of animal characteristics, blue fur, deer antlers, one eye, and oh-a moustache! Of course! That completes the look!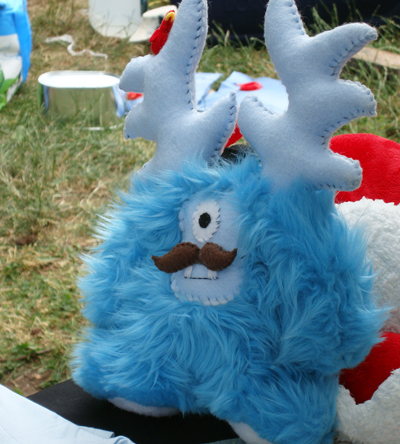 Some amusing signs from the fair.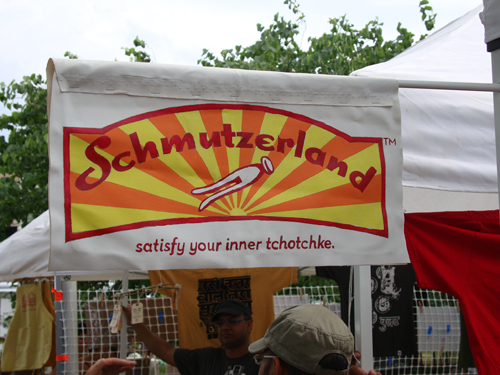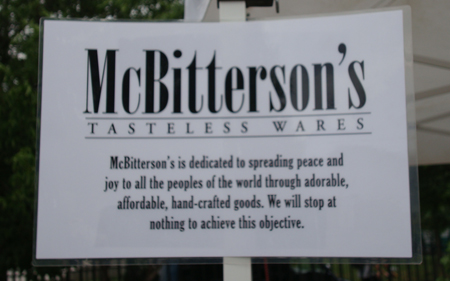 And here are some pretty cool items from the fair but I couldn't find the artists business cards to go with them, sorry!
These stuffed animal heads were a unique idea, a humane way for a animal lover to have a "deer head" up on the wall.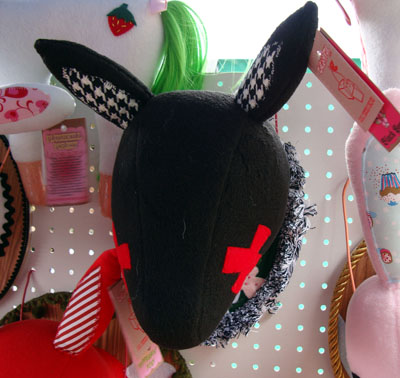 All in all the Renegade Crafts Festival was extremely enjoyable and I again want to thank my wonderful friend and train buddy, Thyrza, for telling me about it.